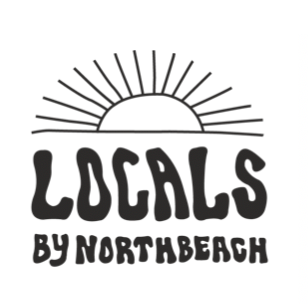 TERMS OF USE
Collection of data
Anyone can become a North Beach Local, as long as they opt into our programme and submit the following details:
Valid Email Address
First Name
Last Name
Gender (Male, Female, Prefer not to answer)
Mobile number
An individual becomes a Local as at the Join Date
Local customers must meet our Local criteria at all times. By becoming a Local, you are consenting to receiving consumer or marketing information and notifications on rewards & other special offers by North Beach. The collection, storage and use of customer information will comply with established data protection and privacy legislation and confidentiality policies.
Local Rewards:
1. Local Rewards - Spend dollars, get dollars
a. For every $500 spent on full price product in 6 months, a Local gets a $30 credit added to their Customer Account
b. Customer must have opted into Locals
c. Spend must be completed within 6 months
d. The points system will continually roll over and will automatically calculate each customer's spend for the prior 6 months
e. Freight or Supplier Repair Costs do not count towards the $500 spend
f. The $30 Local Dollars will automatically be applied to your customer account when the qualifying spend is met
g. Redeemed $30 vouchers do not count towards more points
h. $30 vouchers expire 3 months after date of issue
2. Early Access to sales, products and offers
a. Locals will be granted early access to promotions, products and offers
b. They will also be eligible for certain special discounts on an as and when basis
3. Invites to events, parties and VIP nights
a. Our Locals will be invited to any special occasions hosted by North Beach or in partnership with our brands
4. Extended Returns Policy
a. Locals have 45 days to return their purchase for an exchange, credit or refund as long as the purchase was made using their Local account
5. Birthday Voucher
a. Locals may be entitled to a $20 gift voucher on their birthday.
b. A local is only entitled to one voucher per calendar year.
c. The $20 gift voucher will be emailed to the customer on their birth date.
d. The voucher can be redeemed online only by entering the discount code at checkout.
e. The voucher code is only valid for two weeks from the date issued.
f. Voucher code is for single use and is not valid with any other offer.
g. Discount cannot be added after order has been placed and purchases made using the birthday discount do not count towards locals rewards vouchers.
h. Voucher cannot be used on final clearance items.
Terms & Conditions
1. Your use of the Reward Points programme indicates your acceptance of these terms of use:
2. North Beach may cancel, withdraw or alter the programmes, including these terms and conditions at any time at our discretion. North Beach reserves the right to alter the reward rate at any time. Including but not limited to:
a) The $30 voucher to currency exchange rate. The currency in which Rewards are earned will be in NZD
b) The amount of Points awarded for various actions, including stopping awarding Points for some/all actions altogether, or adding new qualifying actions at any time
c) The length of time after which any unused $30 vouchers will expire
d) The minimum value of Points required for redemption and the maximum value of Points which can be accrued
e) Whether or not we send you any particular email notifications about the Reward Points programme, including notifying you in advance of the expiry of your Points
f) Any changes to the above will be noted on this page. We advise you to check this page regularly for changes.
3. You must log into your Locals account prior to completing your transaction - in store or online. Points cannot be retrospectively allocated once a purchase is complete.
4. Any discrepancies in points balance or rewards must be reported to North Beach promptly. Otherwise the points balance and rewards issued will be deemed to be correct and binding on the member. North Beach's decision on any such dispute is final and binding.
5. $30 Vouchers are not legal tender and are in no way redeemable for cash or any other benefit. They are redeemable exclusively on www.northbeach.co.nz or at our North Beach stores, and entirely at our discretion
6. Reward Points balances are not transferable under any circumstances.
7. Except for any liability that cannot be excluded by law, North Beach will not be liable for any loss or damage; whether direct, indirect, special or consequential, arising in any way out of the Locals program, including but not limited to, where arising out of:
a. any technical difficulties, network failures, virus or equipment malfunction (whether or not under our control)
b. any loss, theft, unauthorised access or third party interference with or of points, vouchers, membership information
c. any points or vouchers that are not properly recorded against a customer's account; and
d. participation in, or termination of, the Locals programme.
8. North Beach reserves the right to modify, refuse or terminate a Member's account to the Locals programme at any time in its absolute discretion.
9. If a membership of the Locals programme is terminated, all outstanding and future rewards will no longer be valid and will be rendered null & void.
10. Your participation in the Rewards Points programme and the administration of your Rewards Points balance is entirely at our discretion. We reserve the right to cancel your account or adjust your Reward Points balance without notice or explanation.
11. If you earn or spend Points for an order which is subsequently cancelled or amended for any reason, we reserve the right to reverse some or all of the Points earned at our discretion.
12. Rewards cannot be sold, transferred or assigned and are not redeemable for cash or any like instruments, including (but not limited to) gift vouchers, gift cards, cheques & credit notes. Rewards do not represent legal tender in any country.
13. If we identify that you hold two or more customer accounts, we may merge them into one account at our discretion. You may hold only one customer number and cannot be held jointly.
14. North Beach reserves the right to notify law enforcement agencies and to pursue any remedies that may be available in the case of improper use or fraudulent activity in relation to these loyalty programmes or any other systems.
15. North Beach reserves the right to exclude some promotions/products from accumulating Locals Rewards. We reserve the right to substitute or remove products and services available for points collection and redemption in store and online without notice.
Beach Heads (UGC)
We love sharing pics of our Beach Heads in their North Beach 'fits!
Every Monday, we will select the winner of the $100 North Beach Gift Card. This will be applied as a credit to the winner's North Beach Locals Account.
When you confirm we can share your content, you are agreeing to the following terms:
acknowledge that you have read and agree to these terms;
grant to North Beach licence to use the Content in any way that it determines, including in any media. North Beach is permitted to:

publish the Content in any way without your approval; including but not limited to; social media, paid social media, and website use.
change the Content in any way without your approval;
may use the Content for commercial purposes;

agree that North Beach:

can use any username, handle or other means by which you identify yourself;
is permitted to disclose any username, handle or other means by which you identify yourself; and
is not required to credit the Content to you;

Acknowledge that in order to be eligible for the $100 North Beach Gift Card:

You must be a North Beach Local (Have a Locals Account)
You must be an New Zealand Resident
Must not be an employee of North Beach.

You can request that we no longer use the Content by contacting: online@nortbeach.co.nz and providing a link to the Content. If you make such a request, we will use reasonable endeavours to cease using the Content, however this may not always be possible.